gomymobiBSB's Site Theme: Seven – App Landing Page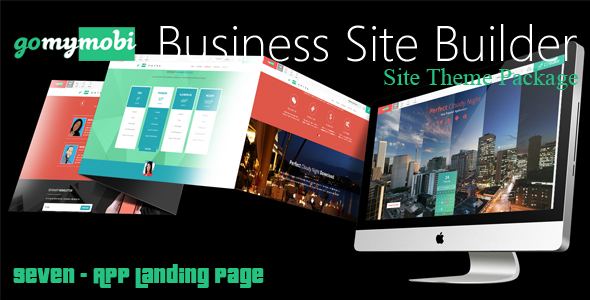 ieoBIN.com – IEO Buy It Now
                               The Best IEO List to Discover, Invest in 2019
                                gomymobiBSB: eCommerce
gomymobiBSB is a web-based site builder PHP script that runs on your own host, both shared host or VPS/server to build an online business site hosting platform to help your clients create business website & online store.
gomymobiBSB: eCommerce is an advanced automated platform that allows your clients to create unlimited sites & online stores then present their business/company sites easily and rapidly without any skills of web design, coding or programming. Each site has an online store to sell both digital and physical products, even subscriptions.
gomymobiBSB: eCommerce may host your cilent's sites as subdomains, generate QR code for every site & store. Furthermore, gomymobiBSB: eCommerce is a mobile site builder where all users can upload & sell their creative website themes & store themes to other users.
This item requires JavaScript to work, see how to activate JavaScript if your browsers disabled or just check social stats / watch live crypto portfolio / compose ePub online to see now.

In this package
1 website theme for building UNLIMITED homepages
powered by www.gomymobi.com & scoopthemes.com
Usage
– Require gomymobiBSB: Drag-n-Drop Business Webite Builder or gomymobiBSB: eCommerce – Business Website & Online Store Builder
– Go to Website Themes -> Upload New Theme to upload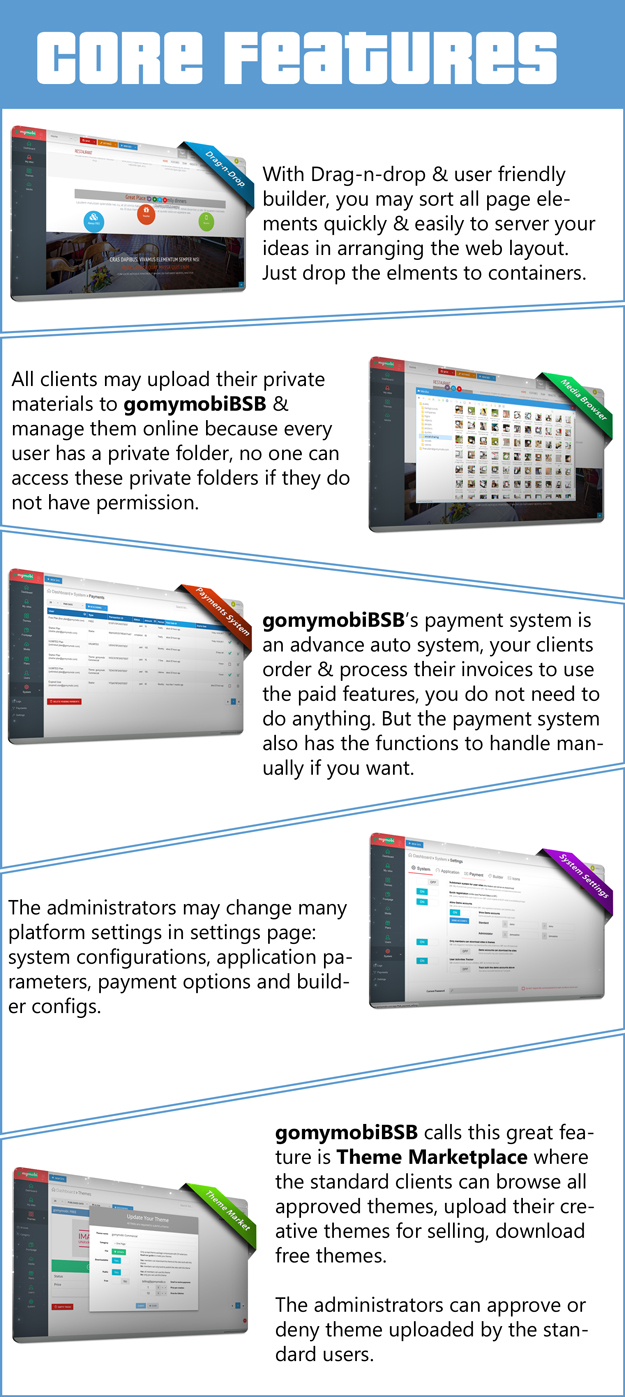 Basic Features
Create UNLIMITED business websites & stores + pages for each site
Standalone theme-based mobile site creator
Business site builder based on Bootstrap 3
Downloadable for Every site
Responsive Mobile Friendly Themes
Website builder & platform are compatiable with All browsers
Easy-to-use Built-in Media
Drag-n-drop, User Friendly Builder & WYSIWYG HTML Editor
Support Multiple Languages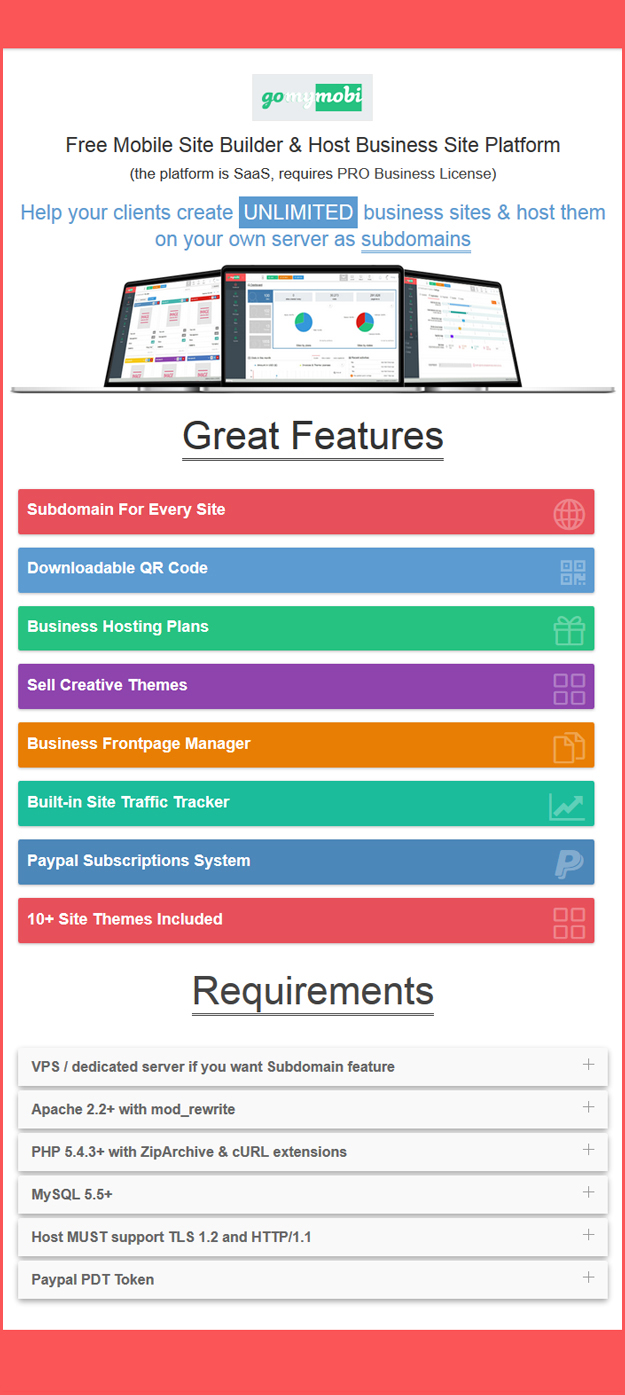 All Features & Functions
Downloadable for all created websites & website themes
Responsive layout for Builder & Platform
Drag-n-drop, user friendly HTML web site Builder
Responsive mobile friendly themes
Builder & Platform are compatiable with all browsers
Easy-to-use Built-in Media Browser
Support multiple languages
Site Management for all clients
3 Icon Sets for easy customizations
Business website builder hosts all websites as subdomains
Online store builder allows clients to create unlimited online shops
Downloadable QR Code for every published website & store
Site Hosting Plans for Business Clients
Creative Website Themes Marketplace for All users
Business Frontpage Manager for Admins
Built-in Site Traffic Tracker
Online site maker powered with Paypal Subscriptions System
Clients are able to upload creative themes for selling / sharing
Dashboard Overview of Statistics
User Registration & Management
System Settings Panel
Private User Settings Personally
Thumbnail Web Screenshot Capturer
Payment History for All Users
Payments for Theme Licenses
Changelog
All updates & changelog listed here
LIVE PREVIEWBUY FOR $10


Our in-house team will guide you through your needs!
Whatsapp or Call
IND +91 9822190210
USA +1 9808190210