Tempo (Silver Edition) Great templates for incredible projects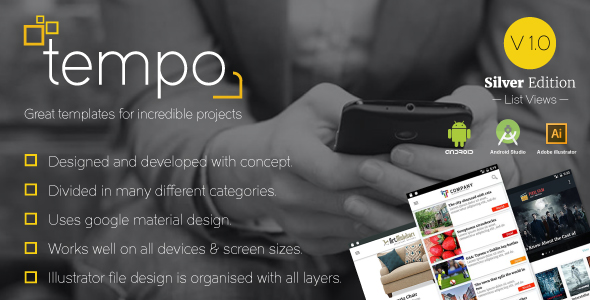 Tempo's a mobile app templates built on top of material design that's suitable for Android app developers. It Includes all the default screens with many elements that you would need and it is ready to use, just put your logo, change the colors and call your APIs.
Please note this is the Silver Edition, and you will get just the List Views section, if you want all the Package go to the Gold Edition.
Tempo (Gold Edition)
Material Design: following Android Design Guidelines.
Many widgets: Toolbar, CollapsingToolbarLayout, SlidingPaneLayout, DrawerLayout,
RecyclerView, SwipeRefreshLayout, FloatingActionButton,
TextInputLayout, TabLayout, ViewPager, CardView.
Icons: A wide range of free Google icons and Fontello (Icon fonts).
Activity Transitions: Beautiful transition between Activities (For the list views and details).
Beautiful Animation for RecyclerView: Using Android Animations.
Supporting Tablets and Handsets: Multi-pane layouts
on tablets and single-pane layouts on handsets.
Flexible Layout Design: Allows application to adapt
to all variations of screen sizes.
Orientation change: Both landscape and portrait orientation supported. (except User login and registration and welcome screen interfaces).
High performance: Optimized for high performance and high-resolution displays.
Caching images: Using Universal Image Loader for displaying and caching images.


    <pre><code><strong>Sources and Credits</strong></code>
a wide range of free Material
Google icons.
All the dummy graphics from freepik.com.
Material Ripple Effect library.
Universal Image Loader library.
Circle Indicator library.
Circular Image View library.
Merriweather Fonts from fontsquirrel.com.
<code><strong>What you Get:</strong>
   <ul>
        <li><b>Full source code in Android Studio.</b></li>
        <li><b>Documentation.</b></li>
        <li><b>All screenshots in PDF and PNG types.</b></li>
        <li><b>Adobe Illustrator app design file organized and layered.</b></li>
        <li><b>APK file</b></li>
    </ul></code>
LIVE PREVIEWBUY FOR $11


Our in-house team will guide you through your needs!
Whatsapp or Call
IND +91 9822190210
USA +1 9808190210